Update from the Executive Director
"Did you get your fish?" That is a often heard question this time of year. People who haven't got their fish (or don't have as much as they'd like) are making last minute plans before the season slips away. To be successful, you have to think about it in advance, plan time off and be equipped when the fish are there. Planning long term while being ready "in-the-moment" are an important part of the non-profit world too. Unfortunately, achieving financial sustainability sometimes becomes secondary to the next year's annual budget and fund raising goals. It often gets pushed aside by what I call "the tyranny of the immediate."
In the latest COVID crisis, how many of the agencies that our community relies on would have been damaged or even put out of business without extraordinary help? It was a blessing that we had PPP loans and AK CARES grants, NERG grants and special COVID relief grants. Those may not be there next time. Then what? What, if anything, can be done to help our local agencies stay financially strong in turbulent times?
The Homer Foundation has 14 agency specific funds that do one thing: support the mission of that agency with unrestricted funds that they can use for any purpose. Those funds are stable and predictable. Its the kind of revenue agencies really like. One problem: Those funds are also small. We can fix that.
Do you support one of these amazing nonprofits with operational support?
Alaska Marine Conservation Council
Bunnell Street Arts Center
Center For Alaskan Coastal Studies
Friends of the Homer Public Library
Homer Animal Friends
Homer Community Food Pantry
Homer Council On The Arts
Homer Mariner Fastpitch Softball
Hospice of Homer
Kachemak Bay Family Planning Clinic
Kachemak Heritage Land Trust
KBBI Kachemak Bay Broadcasting Inc.
Pratt Museum
Storyknife Writers Retreat
Great. You're a rockstar! Keep doing that. All of these agencies need community support to make it year to year. Do you want to help them in the long term? Do you want to be a superhero? If you can manage it, also make a donation to their agency endowment at the Homer Foundation. Are you subject to the IRA Required Minimum Distribution? You can make distribution to one of these funds and it has tax advantages.  
You'll feel good knowing your donation will help the agency you care about year after year. Your gift will be a buffer in the future storms and will keep them going through crisis.
If you're interested in helping the Homer Foundation, we also have an agency fund called the Aquila Fund.
Bonus Idea: Leave a legacy gift in your will or trust to one of these funds. We handle all sorts of donations insurance polices, stocks, bonds and properties. any or all of these can be a legacy gift.
Contact us if you want to know more. Right now I have to get some more fish.
Happy August.
Mike
---
30th Anniversary 
Did you see last weeks installment on the history of the Homer Foundations?  Its in the Homer News . Author, journalist and Homer Foundation Board member Tom Kizza is doing a series to mark our 30th Anniversary, we are publishing a series of historical remembrances telling the story of the Homer Foundation, the first community foundation in Alaska. Don't miss any of them!
---
Grace Ridge Brewery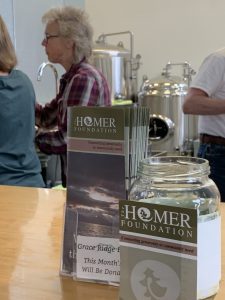 Thank you so much to everyone who came out and had a beer or made a donation to the tip jar at Grace Ridge Brewery. We especially appreciate Don and Sherry Stead who donate their tips to non-profits every month.
---
Homer Community Chest
The Homer Foundation is proud to partner with the Homer Community Food Pantry to support the Emergency Non-Food Aid for individuals in our community. This program benefits individuals with rent support, unexpected or high utility costs, transportation, showers, or basic needs at a time when the individuals might not be able to find the money themselves. Last year, this program saw its biggest needs ever and awarded over $80,000 to individuals in our community. This program averages support to 75 households a month or 250 individuals, including adults, children, or seniors. If you are interested in this program, you can find more information here. This program is supported by the Homer Foundation Community Chest Fund.
---
Recent Grants
You have helped make a difference in your community! See how your support has impacted the world around you:
Homer United Methodist Church
Congratulations to our recent grant recipient, the Loved & Lost memorial bench, sponsored by the Homer United Methodist Church. This effort was envisioned by Sara Berg, mother of Duffy Murnane who disappeared in October 2019 from Homer, who wanted a bench as a place to grieve her daughter. Becoming aware of the immense issue of missing persons across Alaska, and the world, Sara Berg was inspired to commission Homer artist Brad Hughes to create a bench that will honor both Duffy and all those missing, and all their loved ones. Once completed, the bench will be reproducible for other communities who want to honor their missing. The bench will be placed in a Homer location to be determined and hopes to be completed this fall.
Alaska Wildlife Alliance
Congratulations to Alaska Wildlife Alliance for their recent grant for the Kachemak Bay Bash. This project is for this organization to host a festival in April 2022 at the Kachemak Bay Campus of KPC. The festival's goal is to celebrate the City of Homer's heritage: the unique culture, economy, and ecology that make up this coastal city's spirit. AWA will hold this festival in partnership with Kenai Peninsula College. This festival will be free and open to the public and will feature educational booths, children's crafts and games, and vendors of all types. Additionally, there will be a circuit of educational talks in one of the college's lecture halls.
---
Philanthropy Fact of the Month
Historically, charitable giving rises about one-third as fast as the stock market.