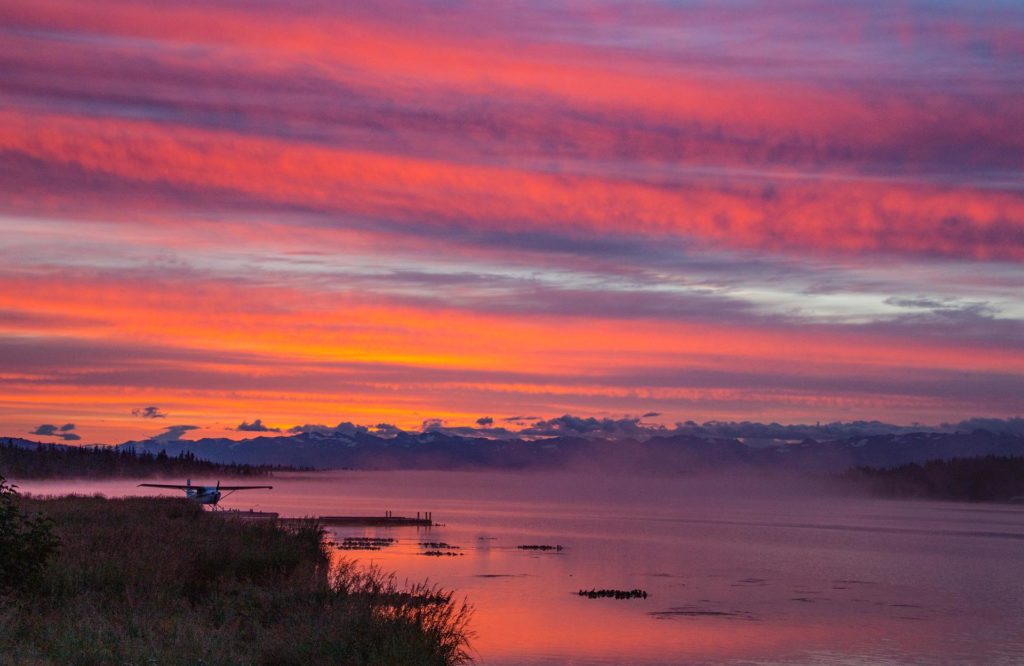 Your giving has helped make a difference in your community!
2023 "Eggs Benefit" Fundraiser + Friendraiser Breakfast

Many thanks to the attendees and especially the table captains who made this event a success. With your help we raised nearly $50,000 for the foundation's work. Whether you came and donated or just learned more about the Homer Foundation, we're grateful you joined us.
A special thank you to our anonymous $5,000 match donor! Thank you Land's End and Wagon Wheel for your sponsorship. We're already looking forward to 2024!
---
Recent Grants
Bunnell Street Arts Center – $5,000 Opportunity Fund Grant
Friends of the Homer Public Library – $4,990 Opportunity Fund Grant
Bunnell received a quick-response grant from the Homer Foundation's Opportunity Fund this month to "support a year of artist residencies focused on health, healing, and sparking joy."
The project was inspired by post-pandemic realities for Alaskans such as stress, depression, and loss of hope.
Bunnell notes that this program will, "cultivate artistic skill and imagination, celebrate and share the diversity of Alaska's cultures, and promote creative play that inspires joy while also enhancing mental and/or physical health."
The artist residencies will be from one week to one month long, and applicants will be reviewed through a competitive jury process. Bunnell is partnering with the likes of the City of Homer, Ninilchik Village Tribe, Chugachmiut, KPBSD, US Fish & Wildlife Visitors Center, and/or a local service organization such as the R.E.C. Room teen center, Haven House, South Peninsula Behavioral Health, or Kachemak Bay Conservation Society.
FHPL received a quick-response grant from the Homer Foundation's Opportunity Fund this month to support their "Summer @HPL 2023 Reading & Learning Program" June 1 – July 29.
The program "promotes literacy and provides kids, teens, and families with exciting opportunities to engage in informal learning at the Homer Public Library."
FHPL works hard to connect local youth to visiting mentors and experts. Participants learn new skills and also connect to the library in different and unique ways.
The national theme this year is "Find Your Voice," and encourages families to engage in the program and express themselves.
Pier One Theatre – $5,000 Opportunity Fund Grant
Pier One received a quick-response grant from the Homer Foundation's Opportunity Fund this month to support five summer camps for youth ages 5-17.
The program features a variety of offerings such as "Cosmic Hamlets: Shakescene, with the students delving into the works of Shakespeare; Theatre Play, the opportunity to create and explore onstage; Store on the Stage, introducing students to the elements of plot, setting, character, and dialogue; and Production and Theatre Skills with a fully staged theatrical production of Anne of Green Gables."
Additionally, Pier One will be taking its show in the road this year by offering a Seldovia Drama Camp where students will "explore a wide variety of theatrical techniques and styles with scene study and improv exercises."
---
Giving Opportunity: Bear Creek Festival
June 3rd – 1:00 – 5:00 PM
Announcing the 4th Bear Creek Winery Music Festival!
This is the largest donor-driven fundraiser for any Homer Foundation fund, and is sponsored by the Winery. 100% of all the proceeds from this event go to the Nikki Geragotelis (Fry) Memorial Scholarship Fund, and the Homer Mariner Girl's Softball Fund–both benefiting the athletes of Homer High School.
Come enjoy live music, local food and drinks, fabulous prizes, auctions, and you get a cookie at the end (all included).
This year's headliner is Black Water Railroad from Seward. Hope to see you all there on June 3rd at 1:00!
Get Show Details and Tickets on Eventbrite.com, the Bear Creek Winery's Facebook page, or by contacting Bill Fry at: (907) 299-1689.
---
Update from the Executive Director
City of Homer Grants Program
One of the services we provide is the administration of the City of Homer Grants program. Beginning in 2001, the City of Homer and the Homer Foundation entered into an agreement to provide general operating dollars to eligible area nonprofits. The majority of the funding comes from an annual allocation within the City of Homer's budget, as well as any additional ATS (spendable income) from the City's field of interest fund.
To be eligible, a non profit must meet two criteria: 1) have an office in the City of Homer and provide services here; 2) Have been operating for at least three years and receiving no other support (monetary or otherwise) from the City of Homer. One other feature that differentiates this program from other grant programs at the Homer Foundation is that this program splits a preestablished pool of grant dollars. The committee, which is comprised of Homer Foundation Board members and community members, decides annually how to divide the pool of grant money.
Grant monies totaled $34,000 this year and were awarded to 13 local non-profits. We are currently featuring one each Monday on our Facebook page. This year, the Homer Foundation 2023 City of Homer Grant awards are:
| | |
| --- | --- |
| HOMER COUNCIL ON THE ARTS | $3,500 |
| HOMER COMMUNITY FOOD PANTRY | $3,500 |
| KACHEMAK NORDIC SKI CLUB    | $3,500 |
| HOMER HOCKEY ASSOCIATION | $3,000 |
| HOMER FARMERS MARKET | $3,000 |
| HOSPICE OF HOMER | $3,000 |
| KBBI | $3,000 |
| SPROUT | $2,750 |
| BUNNELL STREET ARTS CENTER | $2,000 |
| CENTER FOR ALASKAN COASTAL STUDIES | $2,000 |
| KACHEMAK BAY FAMILY PLANNING CLINIC | $2,000 |
| KACHEMAK HERITAGE LAND TRUST | $1,500 |
| COOK INLETKEEPER | $1,500 |
Historical Awards:
Organization Total Awarded & Number of Times Awarded
Since 2001 the Homer Foundation has awarded $682,161 to area nonprofits through 228 grants given under this program. It is a difficult task to review organizations with very different missions, but all committee members have agreed that these nonprofits are high-functioning organizations providing valuable programs and services to the community.
Economic Impact
The relatively small size of the grants belies the true impact of our nonprofit community. Each year, we take the opportunity to compile a synopsis of the economic impact of the nonprofits that have submitted applications. In 2022, these organizations generated over $7.7 million in revenues, including $3.9 million in new money coming into Homer from State, Federal, and Foundation grants. They also employ 106 full, part-time, and seasonal employees with combined personnel expenses exceeding $4 million. The data from these organizations help to illustrate just how important Homer's nonprofit sector is as an economic driver in our economy.
These organizations are also able to leverage additional funding with City support. The community benefits because a strong nonprofit community makes Homer a safer, healthier, and more vibrant place to live, play, and work.
We are glad to partner with the City of Homer in this program and happy to provide this service at no cost to the City.
Congratulations to the 2023 City of Homer grant recipients. Keep up the amazing work you do.
Mike