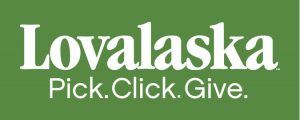 Did you know that you can add or adjust your charitable giving through Pick.Click.Give Alaska through August 31st? This means if you happened to forget to give to the Homer Foundation when you filed for your PFD, you can go into your application and make this change. Here at the Homer Foundation, we know how important your financial decisions are to your families, but we hope that you find a way to give back to your community. We feel like we are a great option to help you help support the community.
We are currently working on expanding our base to be able to aide more people in the community in larger ways. We have made changes at our administrative level with the addition of our newest employee, which is a first for the Foundation, and we are now ready to pursue our goals of a $20 million base from which we can draw funds to give back to the community. We want to reach more members of Homer but we need your help in order to do that.
If you have already given to the Foundation through Pic.Click.Give, we urge you to consider a larger donation. If you haven't included the Homer Foundation in your charitable giving through Pick.Click.Give. Remember all donations are tax deductible and you will receive tax documentation from the State once your donations have been processed. These changes can be made at pfd.alaska.gov.
Remember to do this by next Friday, August 31st!