Update from the Executive Director
February newsletter? Already? What happened to January? I guess I'll have to talk about red roses and chocolate hearts. Or not.
Of all the ways to honor your love for someone, a gift in honor of that relationship is a unique way to say, "I love you" and says you know and understand the things that your significant person cares about. Does your special someone love cats and dogs? Think about a gift to the Homer Animal Friends Agency Endowment. Does your significant other love the arts? We have several "arts" related endowed funds. You get the idea. Click the "Family of Funds" button below to find more information and a full list of our funds.
Remember, a gift to an endowed fund will last as long as your love…. forever.
Mike
---
Legacy Society
Did you know it is easy to leave a legacy for your community?
Wills, Bequests, and Living Trusts
If you are looking to leave the legacy gift via a Homer Foundation fund in your will, you can do so by adding as little as one sentence in your will to complete your gift:
"I give to the Homer Foundation of Homer, Alaska, Tax ID #92-0139183 (all, or __ percent of) the rest, residue and remainder of my estate for its general purposes."
You can also be specific to a fund for a cause (arts, children, hunger, environment, etc). You can even specify a particular nonprofit agency. For more options, please click here for sample bequest language to be included in your will or other estate documents.
This type of donation in your will or living trust helps to ensure that we can sustain the issues you cared about in your life for years to come.
Beneficiary Designations
Another simple way to leave a legacy is through life insurance. By designating the Homer Foundation (or a particular cause or fund) as the beneficiary of the policy.
A beneficiary designation can be in:
IRAs and retirement plans
Life insurance policies
Other Donor-Advised Funds
It takes three simple steps to make this type of gift. Here is how to name the Homer Foundation as a beneficiary:
1. Contact your retirement plan administrator, insurance company, bank, or financial institution for a change-of-beneficiary form.
2. Decide what percentage (1% to 100%) you would like us to receive and name us, along with the percentage you chose, on the beneficiary form.
3.   Return the completed form to your plan administrator, insurance company, bank, or financial institution.
---
Scholarships
Homer Foundation has 14 scholarship programs available in 2022, with up to $38,000 available for area students, including post-graduates. There are a variety of scholarships, ranging in value from $500 to $8,000. If you know a senior or recent graduate of a Southern Kenai Peninsula school, encourage them to apply. 
---
Hold the Date!!!
Halibut Cove Live is back! Hold the dates of July 16th and 17th, 2022 for this year's HLC.  We're back with great music and amazing food all set in unique location of the Quiet Place Lodge in Halibut Cove. More announcements to come! 
---
Welcome New Funds
We are excited to announce two new Agency Stewardship Funds, which are Non-Endowed Funds for area nonprofits. They are in an investment portfolio with the Homer Foundation but instead of having the principal be protected in perpetuity, the organization may access any or all of the principal. Each fund and organization have their own goals with these funds but we are excited to see more organizations utilize this flexibility offered by the Homer Foundation.
Homer Community Food Pantry Sustainability Fund
Hospice of Homer Non-Endowed Fund
---
Recent Grants
You have helped make a difference in your community! See how your support has impacted the world around you:
Bunnell Street Arts Center- Arts by Air
Live in-person concerts at Bunnell Street Arts Center broadcast on KBBI AM 890 Radio
This is a COVID-safe venue of Bunnell Street Arts Center with a limited audience and accessible-to-anyone broadcast, which provides a stable way to connect audiences and musicians. This program began in 2020 and is seeking to grow this young program into a sustainable, long-lasting staple of our community. This supports local and traveling artists, which is income and inspiration to an area of our economy that continues to struggle through the pandemic. The Homer Foundation also appreciates seeing the partnership of two local organizations.    
Kachemak Bay Conservation Society: Homer Drawdown Peatland Project Part II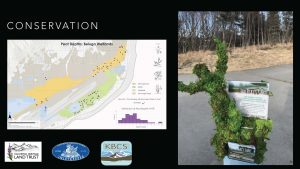 The Kachemak Bay Conservation Society has been awarded $12,000 for the second part of The Homer Drawdown: Peatland Project. This is a community-driven campaign to protect and educate about our local peatlands' role in carbon sequestration, water regulation, biodiversity, and more! The project also provides real data to help future decision-makers. With over 250 participants, the project has harnessed the expertise of more than a dozen local non-profits, as well as thousands of volunteer hours.
This project is the second part of this multi-agency effort. Along with being an important project, the Foundation Board of Trustees was very excited to see such great collaboration between local agencies. They also appreciated the education component training of almost 80 youth and providing professional development for 15 other educators.
Congratulations KBCS!
---
Philanthropy Fact of the Month
The average age of a donor in the US is 62.